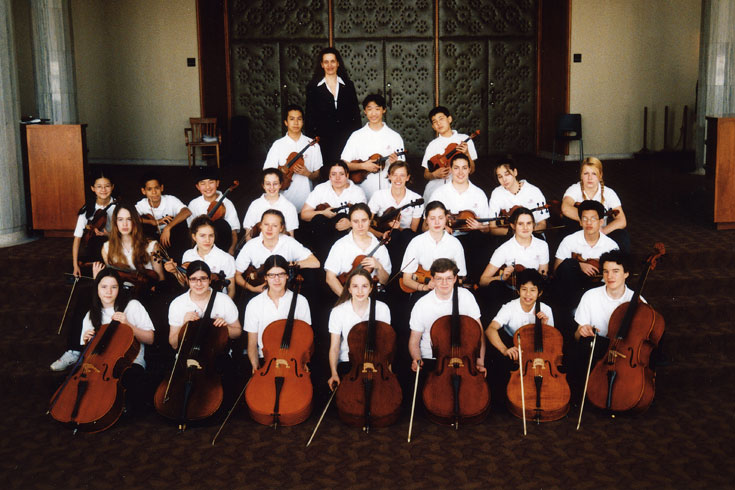 The Face Chamber Orchestra was founded in September 1999 by its director, music teacher Theodora Stathopoulos. The Orchestra provides the school's most advanced string players (ages 10-16) with the opportunity to further develop their ensemble skills through the study of advanced chamber music repertoire. As well, string players from the SYmphony Orchestra are often invited to participate.
In addition to the Orchestra's regularly scheduled concerts, the students' experience is enhanced through community event concerts, tours and Festival participation having given more than 50 concerts since its inception.
Provincial Gold Silver medalist, the FACE Chamber Orchestra is the recipient of two federal government grants to tour:
Vancouver (2002) and
Edmonton / Banff (2003).
The Orchestra has been invited to compete at the national level in May 2003. Recently was the honorary guest performer at the unveiling of a new commemorative Canadian stamp.
Recent FACE graduates, who have been members of the Chamber Orchestra, are now attending prestigious music institurions such as:
Manhattan School of Music (Wu Jie 2000),
Julliard (so Jin Kim 2001, Tina Zhang 2002).
Similarly, many members of the Orchestra have won gold standing in solo category at the Montreal CLassic Music Competition and Jeunesse Musicale Competition.
The Orchestra's repertoire covers a vast range of periods and styles from Corelli to Tchaikovsky in the classical domaine including international composers such as Skalkotta, Piazolla, Grainger, Holst and not neglecting Canadian composers such as Claude Champagne and others.