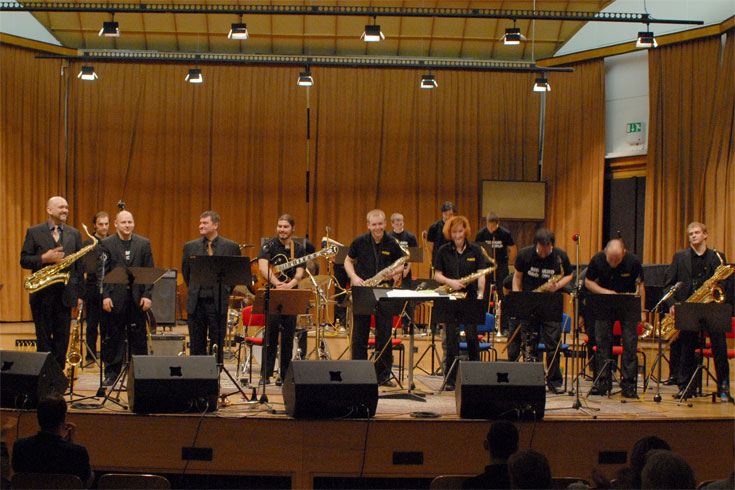 Big Band Grosuplje founded in 1997 and has been active since then. The members are mainly young students from various faculties (colleges). First director of the orchestra was Braco J. Doblekar.
Not only have the practicing and the over 150 performances (at various Big Band festivals, on the TV show Sportsperson of the year 2000, 2001 and 2002, at the National Independence Day Commemoration in 2003), but also the seminars the band members have visited in this time have largely contributed to the musical growth of the orchestra.
The orchestra organized several summer seminars with established Slovenian and foreigner musicians, like:
Rick Stitzel,
The Kelly Johnson Quartet,
Western Jazz Quartet -USA-,
Sigi Feig –AUT
and also had the honour to perform together with well known jazz artists like:
Arthur Lipner ( USA),
Bosko Petrovic, Sasa Nestorovic, Davor Krizic (CRO),
Marko Djordevic (SERBIA) and
Oto Pestner, Elda Viler, Alenka Godec, Nusa Derenda, Anika Horvat, Igor Lumpert, Klemen Kotar, Adam Klemm from Slovenia.
We intend to continue with such activities and musical development also in the following years. Our aims are ambitious, but realistic. This is a guarantee that you will be hearing a lot about, as well as from, this orchestra.
Since 2004 the Big Band Grosuplje orchestra is directed by Igor Lunder.