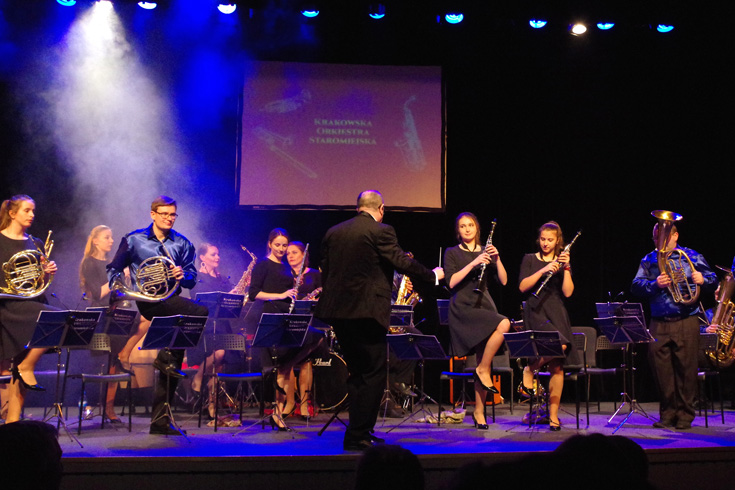 Krakowska Orkiestra Staromiejska (KOS) is a band which mainly performs light music. It was founded in 1988 by Wieslaw Olejniczak who conducts the orchestra ever since.
KOS, throughout its existence, took part in many events, contests and music festivals as well as international art projects. The orchestra has performed multiple times in Austria, Bulgaria, Czech, France, Germany, Greece (Corfu 2008, Larissa 2006 and Elassona 2005), Hungary, Italy, Netherlands, Slovakia, Spain, Ukraine and Vatican.
KOS participated in events such as:
Woodstock in Kostrzyn nad Odrl
Jazz festivals in Ilawa (Zlota Tarka), in Krakow (Jazz Juniors), in Kolbuszowa (Jazz nad Nilem), in Osiek (Festiwal Gospel)
International Military Orchestra Festivals in Krakow
Krakow Dragon Parades
Municipal festivities
New Year's eve concerts in Wisla and Sosnowiec
Sports galas
Intronisations of Kurkowe Brotherhood's king
Golden masks.
Orchestra has won the Echo Trombity contest on Nowy Slcz multiple times – a contests that sees over 90 participants every year.
In 2018 orchestra has received the "Polonia minor" award for its achievements and activity, awarded by Lesser Poland's voivodeship self-government.
Orchestra is patronized by Cracow University of Technology. Conductor Of the orchestra is Wieslaw Olejniczak.