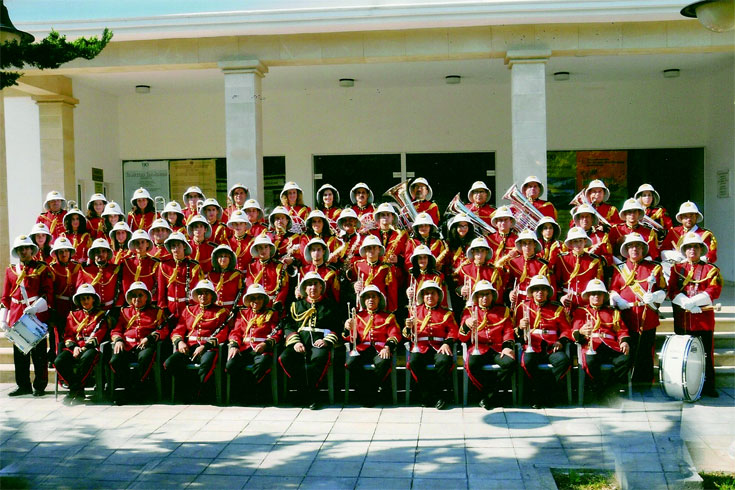 The first attempt at founding the Larnaka Municipal Philharmonic was made in the early 20th century. Its first conductor was the well-known Leopold Glazner. Leopold Glazner was succeeded by Isaias Kalmanovich. Today's Philharmonic was founded in 1987 and led by Andreas Andreou. The Municipal Philharmonic made its first appearance in the parade of 28 October 1988. Its course since then has been filled with success and important performances in Cyprus, Greece and other countries. 1991 – Bulgaria, 1993 – Greece, 1994 – Rhodes and Cyprus at a festival of philharmonics from abroad organised by the Municipality. This was followed by many appearances at festivals in Greece, Bulgaria and elsewhere.
The height of its performances was its great performance in Saint Petersburg in 2000, at the European Festival in Thessaloniki in 2001, and in 2004 when it represented Cyprus at the European Festival held in Cheb, Czech Republic, in which all 25 members of the European Union took part. In 2007 the Municipal Philharmonic was invited to participate in the celebrations for Romania's accession to the European Union, and in the same year it took part in the Sindos Festival in Thessaloniki. In 2009 the Philharmonic was invited to Odessa, Ukraine, to participate in the city's celebrations by giving two concerts.
In 2010 the Municipal Philharmonic appeared in events in Malta.
The Philharmonic currently consists of 85 members who cover all instrument families and have the ability to play all kinds of repertoire. There is a saxophone quartet, a clarinet quartet and a brass quintet, as well as a popular orchestra.
The Larnaka Municipal Philharmonic Orchestra is led by conductor Andreas Andreou.