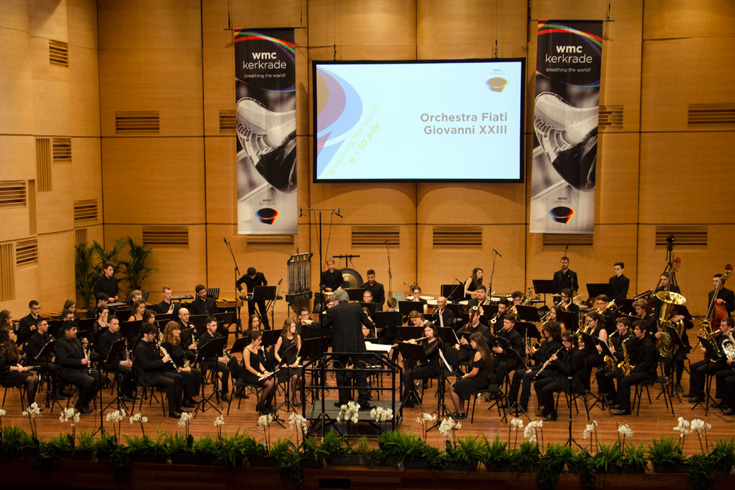 The wind orchestra Giovanni XXIII was founded by the maestro Antonio Zizzamia as a project that involved the city of Pianezza, the secondary school "Giovanni XXIII" and Unecon association; the activity aims at making youths familiar with band music, offering them to learn playing a wind instrument.
Since the initial 10 members under the baton of maestro Zizzamia in 2008, the orchestra counts currently about 50 members aged between 12 and 20 years old.
In 2013 began a partnership between our orchestra and the Leipzig Jugend Blasorchester, Germany, with two concerts in Leipzig's Marktplatz on occasion of some local festivities.
This partnership continued in 2014, when the Orchestra hosted the Leipzig Jugend Blasorchester and together we played three concerts in Torino.
In both 2014 and 2015 the Orchestra exhibited during Turin Music Festival, for the opening and closure concert, respectively.
On 2015 the Orchestra won the first prize at the Wind Orchestra International Contest in Prague, competing in the higher class.
Still in 2015, the Orchestra won the first prize of the Amilcare Ponchielli Competition in Cremona, competing in the third class.
In 2016 the Orchestra has participated for the second time to the "NBJot" in Neubrandenburg, Germany.
In July 2017 the orchestra took part to the World Music Contest WMC – Kerkrade In Holland, the most important contest for wind orchestra in Europe, winning the gold medal in the third category.