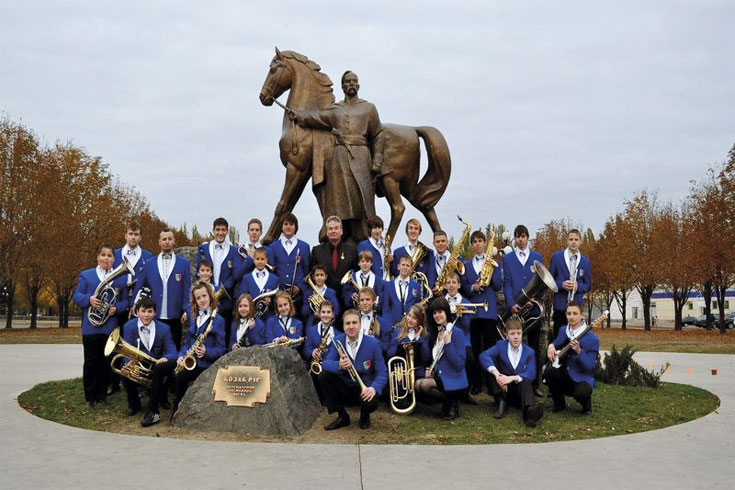 Exemplary Children's Brass Band "Portrait" behalf V. Demina of school artistic educational establishment is "Krivoy Rog city musical school Number 4" was founded in 1963. From 1992 Leader of the band is Oleg Kaliuzhnyi – a teacher on the class of wind instruments. In 2004 the Band received the title "Exemplary".
The repertoire includes classic and pop music, processing of folk and modern melodies, vocal and instrumental works, escorted by an orchestra.
Since 2010, the Brass Band "Portrait" took active participation in the International, All-Ukrainian and regional Competitions and Festivals. In which permanently occupied the First places.
Ukrainian Music Festival "Jazz and youth" – 1997-2001
Regional Festival of Brass music – 1997, 2004, 2005, 2012
Regional Festival "The Music Flute" – 1993-1996, 1998-2014
All-Ukrainian festival of brass and pop music "Taurus Surma" – 2009, Melitopol
All-Ukrainian festival of brass music "Carpathian Ringing" – 2012, Morshyn 2012, 2013
International Children's Art Festival "Sontserid", Crimea, Alushta 2008-2010
International instrumental competition behalf E. Stankovicha, Kyiv in 2012
International Competition – Festival of the CHildren's and Youth Arts "Pearls of Europe", Praha, Chech – 2014
The Brass Band "Portrait" conducts a full and active work concerning the propaganda of the brass music among chidren and young people. It accepts active participation in different cultural anniversary dates. In 2010 and 2013 the orchestra took part in VIdeo shooting at the First National Channel of Ukraine in the program "Folk Music" in Kyiv.
Conductor of the orchestra is Oleg Kaliuzhni.