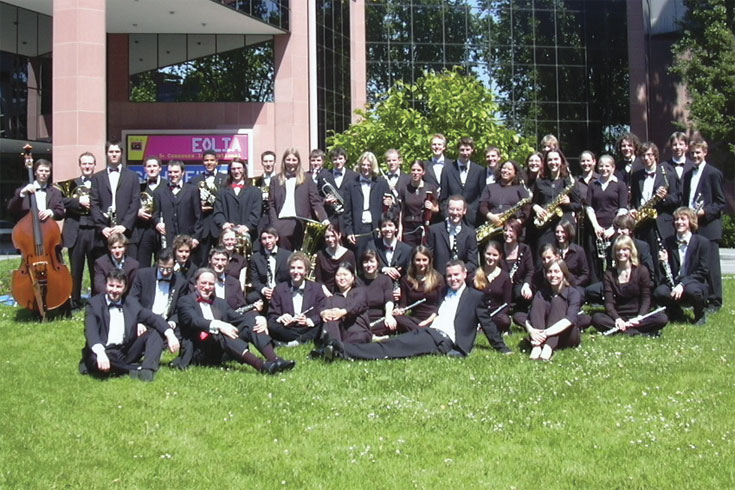 The Stuttgart Music School Symphonic Youth Wind Orchestra was founded in September 1980. The express purpose was to perform original concert music for large forces of wind and percussion instruments by the world's leading composers. The wind orchestra's instrumentation remains flexible in order to meet the various demands of the compositions being performed. The orchestra normally has between 50 and 60 members, ranging in age from 14 to 26.
In addition to regularly performing formal concerts in the main concert halls of Stuttgart, the wind orchestra has appeared on regional television and radio in Germany and Spain. It has performed concerts in Strasbourg, Zurich, Mannheim, and Munich, as well as in numerous communities in and outside Germany: Spain (1st prize at the Interna­tional Band Competition 1986 in Valencia, England (Isle of Man International Festival of Music and Dancing 1987Harrogate 1989), Netherlands (1988 & 1997), Israel (1990), Italy (1993),Ecuador (1996), 5th European Youth Music Festival in Barcelona (1999), Malta (1999), U.S.A. (1992 & 2001), France (1994), Hungary(1995 and 2002), Echedorus – Greece (2003), South Africa (2005), British Columbia, Canada (2007). Also, in May 2004 won a first prize at the 5e Concours International de Strasbourg, France.
Among its actions the orchestra has also a variety of concerts with significant soloists and conductors:
Dutch conductor Jaap Koops
Hungarian conductor Laszlo Marosi
Director of the band is Prof. Leon Bly.