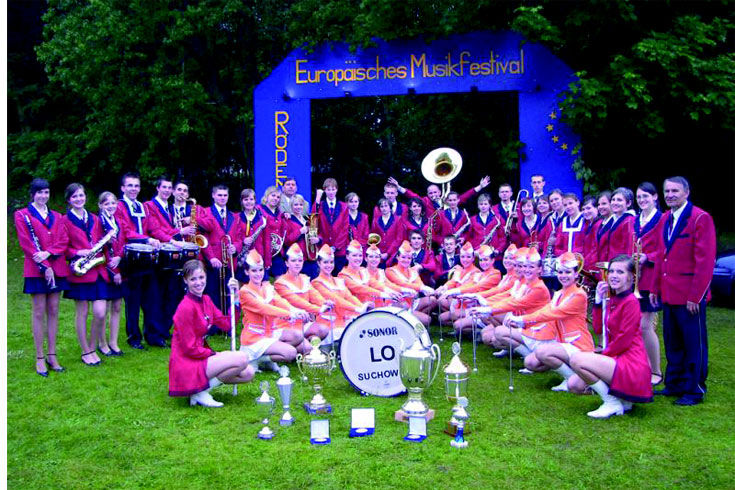 The Youth Brass band of Suchowola's Secondary School, has completed 50 years of active educational and artistic presence. Performing a diverse repertoire both in Poland and abroad, the orchestra achieved accomplishments and rewards in numerous national and international competitions. The most significant among them are:
The first place for the drill parade and the prize for the best saxophonist and drum – major (1998 & 2003) in the "Inowroclaw National Youth Brass Band Festival".
The third place for the march parade (2005).
The first place for the march and "music show" (2009) in the "National Brass Band Festival" of Krynica.
The audience and jury reward in the "Europarade" of Villefrance de Rouergue ( France 1999).
The first place for the stage performance in Nebull (Germany 2002).
The first place in the "music show" category – drill parade in the "Zurich International Youth Brass Band Festival" (Switzerland 2005).
In 2006 and 2007 the orchestra has participated in the 9th and 10th "International Youth Band Festival" of Sindos (Greece) and in 2008 the orchestra performed in Mazamet and Bessines (France).
Nowadays, the band has 52 members divided in four groups. The 32 membered orchestra conducted by Jerzy Zdanewicz. The preparative orchestra instructed by Jaroslaw Szczebra. The drum-major group instructed by Tomasz Zdanewicz. The modern dance group instructed by Agnieszka Olesiewicz.
Since 1974, the conductor of the orchestra is Jerzy Zdanewicz.