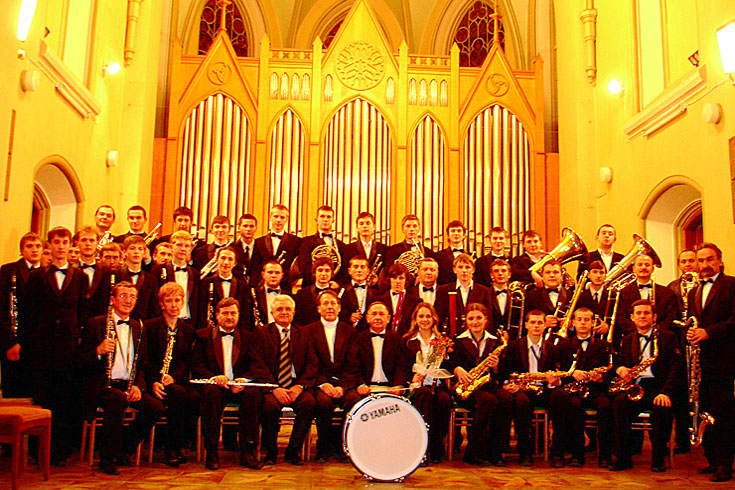 The Youth Wind Symphonic Orchestra «Surma» was founded in 1955 on the basis of the «Rivne Musical College». It was created to let students and teachers of the department of wind instruments practice ensemble play and develop a repertoire for wind ensemble. The name Surma was given to the orchestra in 1992.
After 51 years of existence this professional orchestra has a vast repertoire of more than 200 pieces. For the last 20 years the repertoire has been enlarged with the Western wind music generously donated to the orchestra by German composer and publisher Siegfried Rundel.
Surma has given numerous premiere performances. Many of these were the premiere performance of the piece not only for Ukraine but also for the post-Soviet republics.  These and many other premieres were performed in the frame of the Festival of Wind Music «Surmy». This was organized around the orchestra in 1994.
The orchestra performed in Bulgaria in 1980 and in Czechoslovakia in 1989. In 1992, 1993, 1994 and 1996 it was invited to Germany to participate in the festival and content «Musikantentreff Ostsee» in Rostock.
In 1994 it participated in the festival «Coups de Vent» in Le Havre, France. In 1999 Surma was a participant in the conference «MID EUROPE» in Schladming, Austria.
In 2001, it took part in the 6th Concorso Bandistico Internationale Riva Del Garda, Italy, in 2006 Surma was a participant in the 9th International Youth Band Festival, the Municipality of Echedoros, in Greece.
In 1978, the Youth Wind Symphonic Orchestra of Rivne Musical College became the only orchestra ever, among all professional student wind symphonic orchestras of the Soviet Union, to make their own album. In 1999 during conference «Mid Europe» in Schladming the orchestra recorded a CD.
Since 1971 Andrij Kibita is the conductor of the Youth Wind Symphonic Orchestra Surma.