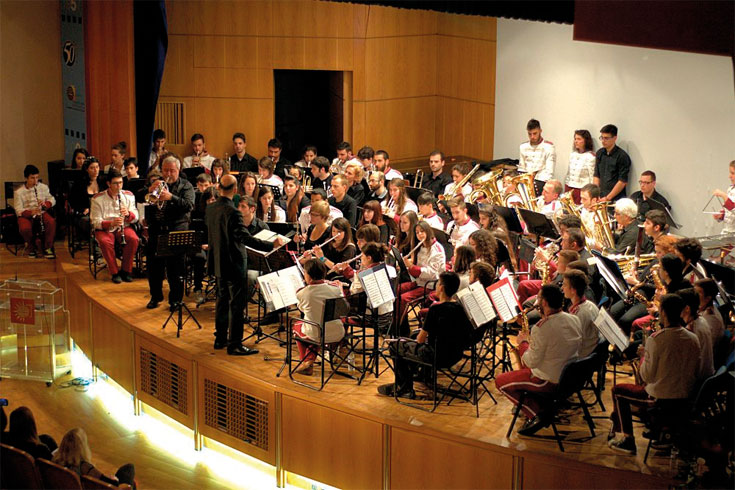 Philarmonic Orchestra of the Municipality of Ampelokipi – Menemeni
The wind band of the Municipality of Ampelokipi and Menemeni is a multimember music ensemble which consists of 70 volunteer musicians.
A common characteristic of all the members of the concert band is the quest and love for music which has been written and composed for windband.
The specific wind band is an active participant in the cultural and musical festivals in Greece and abroad.
In 2011 after a formal invitation the band participated in the cultural Summer festival in SLovakia and Hungary.
Moreover, in 2009 the philarmonic took part in several cultural events in Romania.
In the summer of 2010 the windband organized a nine-day seminar in Pelion that was directed by the onductor Goerge Hatzinikos.
Furthermore, in the summer of 2012 they performed in the International Diffwinds Band festival in Luxemburg. In July 2013 the Band traveled to Bulgaria (Burgas, Pomorie, Nessebar, Varna and Plovdiv) in order to give several concerts.
In 2014 they participated in the International Zabrow Band Festival in Poland.
In the summer of 2015 they organized band seminar in collboration with th ephilarmonic orchestra of Kalavrita with conductor Denis Laile.
Ampelokipi concert band also organised 9 wind band festivals already from 2006 until now.
The Philarmonic Wind Orchestra of the Municipality of Ampelokipi and Menemeni is conducted by the Band Conductor Nikolas Chrysohoou.