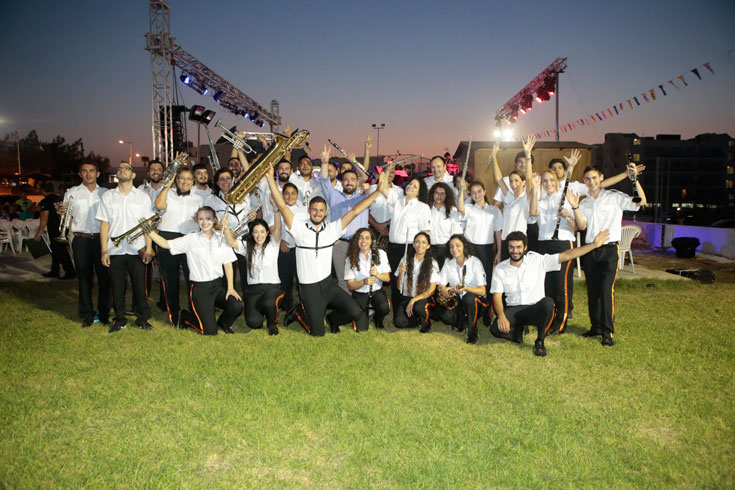 The symphonic band "Armonia" of Paralimni Municipality was funded on the 1st of November 1998. The intention was:
to create a musical band to march on national holidays, as well as
to provide musical accompaniment in religious ceremonies and other local events.
The first official performance of the symphonic band "Armonia" of Paralimni Municipality was held in Paralimni for the celebration of the national day of 28th October in 1999, under the conductor Yiannis Bravos.
The band has participated in concerts all over Cyprus, as well as Greece, presenting a varied selection of symphonic, light jazz and Greek music:
2000 – Inauguration of EUROCITY exhibition in Nicosia while participating in two television shows in the Cyprus Broadcasting Corporation (RIK 1)
2001 – Participation in the celebrations for the anniversary of the liberation of the town of Tripoly, Greece
2002 – Participation in the 5th International Youth Band gathering in Echedorou Municipality in Salonica, Greece
2003 – The succession of a new conductor for the band, Dr Yiannis Miralis and assistant conductor Michalis Michael
2006 – Participation in Diffwinds Festival in Differdange city of Luxembourg, where the price for the 'Best Youth Band' was awarded
2009 – Participation in the cultural events of Zante Municipality, Greece
2012 – Participation in the 4-day event of the 'Meeting of the joined cities of Tripoli Municipality'
In addition to its participation in various events abroad, in 2005 the band organized the 1st Philharmonic Band Festival in Paralimni. The festival hosted the participation of bands from both Cyprus and Greece.
Since January of 2013, the band has officially become an independent body as a non-profit organization. The new conductor is Demetris Markoullis.
In 2015, the first Protaras Wind Youth band Festival, PWF2015, is organized by the band, under the institution "Paralimnia" of Paralimni Municipality, which hosts a variety of cultural events in the touristic area Protaras.
Protaras Wind Youth Band Festival 2017, PFW2017, is organized for the third successive year. It continues to provide the opportunity for different bands to connect under the different kinds of music each organization has to offer.