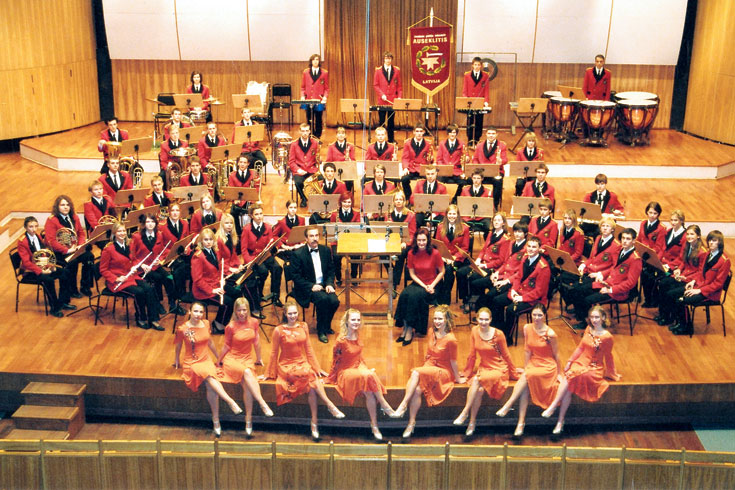 Youth Wind Orchestra "Auseklitis", Latvia
Riga's 6th secondary school was one of the first schools in Latvia, where a special music program was introduced. Consequently, a number of choirs, orchestras and dancing groups were created.
The most active and popular among them so far, is the youth wind orchestra "Auseklitis", founded in 1975. The name, adopted in 1988, means "Morning Star". The 50 members of "Auseklitis", mainly former and present students of Riga's 6th high school are rehearsing twice a week at the same place they used to... At their school!
Their repertoire includes almost all kinds of musical genres wisely arranged for concert band.
After all these years of hard work and numerous concerts with a wide range of pieces, the orchestra has established one of the richest libraries of orchestral compositions and generally sheet music in Latvia.
The Youth Brass Orchestra "Auseklitis" has performed an abundance of programs both in Latvia and abroad. The most remarkable among the recent performances and distinctions are: the Grand Prix at the «23rd Latvian Song Festival» in 2003, the participations at the International Festivals in Budapest and Cheb (Czech Republic) in Summer 2004, and the release of its first CD at the end of 2004.