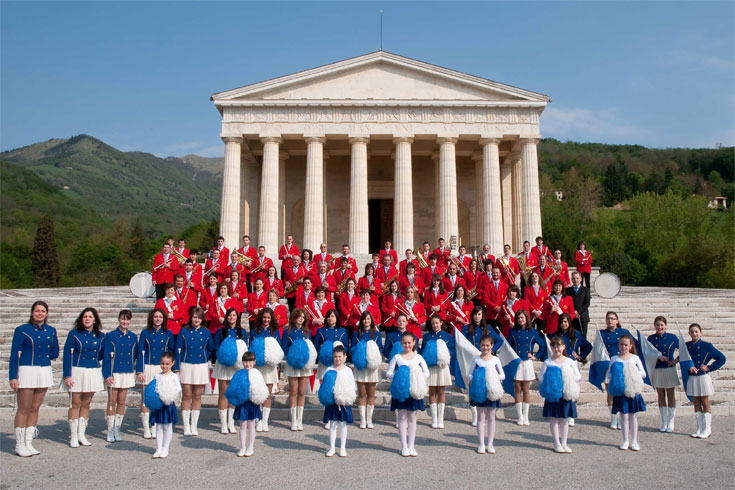 "Istituto Musicale Canoviano" di Possagno, Italy
The "Istitutο Musicale Canoviano", named after Antonio Canova (1757 - 1882) the famous native Possagnese sculptor, whose marble masterpieces considered to be the epitome of the neoclassical style, founded in 1987 representing a community, (Possagno) which has only 2200 inhabitants but from the other side, a strong tradition in arts.
The music institute - a "harmonious bonded society" deeply rooted in the local community, is led the last 15 years by the artistic director Stefano Fabris, a hornist of the orchestra of the Venetian theater "La Fenice". It provides all the necessary prerequisites for the youth to enrich culture through music. Starting from numerous music theory and instrument courses to 160 enrolled students, proceed:
to the 20 membered beginners' orchestra (dir. Stefano De Paoli),
the 60 membered performing wind orchestra (dir. Stefano Fabris),
the brass ensemble "Canoviana" (dir. St. Fabris) and
30 membered majorette team with it's preparatory groups.
"Banda Canoviana" di Possagno, performed in numerous concerts in Italy or abroad (Austria, Germany, Australia) a great variety of pieces as a wind orchestra or a big band, depending on the repertoire (from opera, classical to modern film jazz, blues, funk, soul music. In December 2009 the institute celebrated the 20th anniversary of the orchestra's first performance (22/12/89).
The "Istituto Musicale Canoviano" di Possagno orchestra is directed by maestro Stefano Fabris.