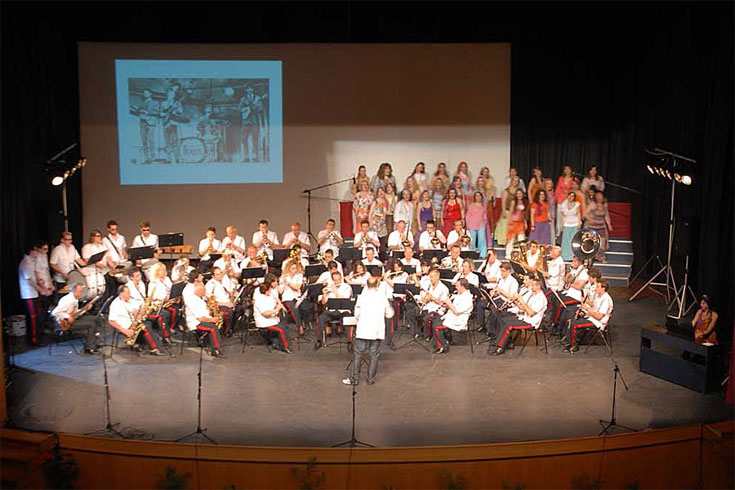 The Philharmonic Orchestra of the Municipality of Ioannites was founded in 1917 and operated till 1934. It was revived in 1953 under Mayor Ioannidis. Today the Philharmonic is part of:
The Utility Enterprise of Culture,
the Environment,
Youth & Sports of the Municipality of Ioannites (Legal Entity of Private Law); it comprises 50 musicians and has a nursery of 30 students.
The Philharmonic performs at anniversaries and religious festivals and gives concerts in the city of Ioannina and the rest of Greece. Its repertory is rich and rare and includes both classic and modern works by Greek and international composers.
Some of the most important concerts of recent years were:
The operetta evening held at Ioannina and at the Municipal Theatre of Patras.
The homage to World and Greek cinema held at Ioannina and Cephallonia
The music evening dedicated to international pop songs of the '60s and '70s, held at the TECHNI Factory of Patras and at our city.
Another important landmark was the concert dedicated to the WWII Epic, held at «Vassileios Pyrsinellas» Hall in Ioannina. The Philharmonic Orchestra has also participated in Festivals in Thessaloniki, Chalkis, Corinth and elsewhere. One of its recent successful concerts was the homage to the great poet Yiannis Ritsos, titled "Poetry and Music under the Moonlight". The last appearance of the Philharmonic of the Municipality of Ioannites was at the International Patras Festival where it performed songs from popular musicals.
As of December 1997, the Philharmonic Orchestra of the Municipality of Ioannites has been under the leadership of conductor Dimitrios Abatzis.