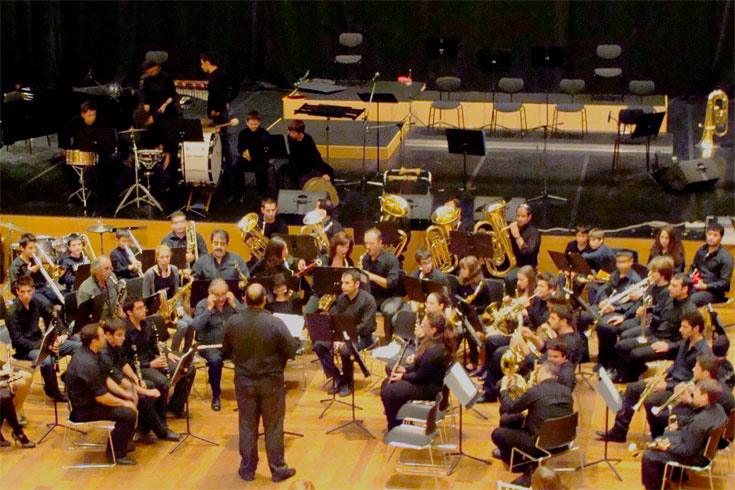 The Philharmonic Society of Lefkas
The Philharmonic Society of Lefkas was founded in 1850 by eminent Lefkas citizens. It is the oldest Society in the vicinity and the second Philharmonic to have been created in Greece. In 1864 it played on the occasion of the Unification of the Ionian Islands with Greece, in 1896 it participated in Athens Olympic Games, in 1906 it took part in the Mid-Olympic Games (the only philharmonic band from the Ionian Islands to participate).
At the festive meeting of the Academy of Athens, held on December 30, 1983, the Philharmonic Society of Lefkas was presented with an award for:
its long and brilliant artistic activity for 133 years and
its contribution to top level musical education.
The award ceremony was attended by the President of the Republic, Konstantinos Karamanlis, and Members of the Academy, politicians, and personalities of the Letters & the Arts.
The Philharmonic Society of Lefkas is a non-profit association numbering more than 1000 members; it runs a Music School, a Band, a Bandina and various Music Groups.
The Music School is the grass roots of the Philharmonic and has been in continuous operation since 1850. Today there are around 160 students taught at the School.
The Bandina was first created in 1977 and it comprises around 60 students of the Music School.
The Band appeared for the first time in 1852 and participated in Olympic Games. It has been awarded Gold medals, prizes and other distinctions. More than 100 persons participate in the Band and they are joined by other individuals who do not live on Lefkas.
Every Year, the various departments of the Philharmonic perform at tens of concerts. They have successfully participated in many Philharmonic Orchestra Festivals in Greece, namely, Corfu, Rhodes, Thessaloniki, Athens and elsewhere, as well as beyond Greek borders, namely in Austria, France, Switzerland, Cyprus, Italy, Albania and elsewhere.
The Philharmonic Society of Lefkas has been under the leadership of conductor Thanassis Mitsouras since 2006.