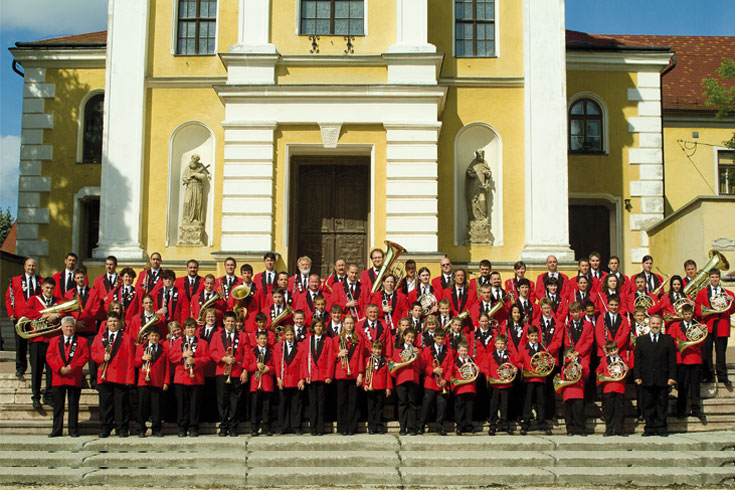 The Ethnic German wind music has got an important tradition and reputation yet during the years it picket up and sometimes slacked. In 1981 Sandor Acsai, who came to Mor, reorganised the band. The new generation is ensured by Miklos Pastti Music School that was established that time. The conductor Sandor Acsai works with a perfect sense whereby the band makes a hit abroad and in Hungary as well.
Qualifications: 18th November 2006: Seeded Gold Diploma D' (highest) rate in show, concert and Ethnic German category. Successes: Many national and international festival awards and prices. 2001: Winner of Hungarian Millennium National Festival, also an important success that they could play music with 25 bands from the European Union and Russia in Cheb, the Czech Republic. They did justice to 35 foreign invitations. They were in Filand, Israel, Poland, Estonia, Romania, Slovakia, the Czech Republic, Switzerland, Austria, Croatia and Germany. Their records got to 61 countries.
3 CDs, 3 cassettes, 1 record and DVDs show their success. Almost 20 people have chosen music for their profession from the band. Every even year they organize with their home town an international festival where 60 foreign and national bands take part. In 1996 the town of Mor gave theme the PRO URBE award for their excellent work, in 2004 Sandor Acsai, the conductor got this price and in 2008 Jozsef Grell associational chairman. Their most important supporter is the Self-Government of Mor, the parliament and the General Assembly of Fejer County. They also got of support from Alcoa Foundation for their journeys abroad.
Since 1981 Sandor Acsai is the conductor of the Mor wind band.