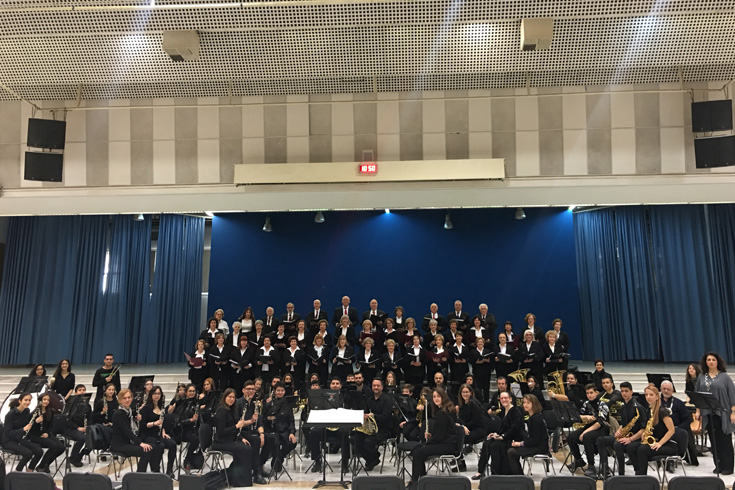 Kalamaria Municipal Wind Orchestra is going through its thirty sixth year of intense and creative "march" and we may say that it consists the institutionalized expression of the citizens' love for music. The ensemble established in 1983, to cover the breakup of the "Aristotle" Foundation Wind Orchestra. Under the direction of the enlightened teachers Kostas Samsarelos and George Sidiropoulos and the endless support of the Kalamaria Municipality, very soon the band became a numerous and esteemed music ensemble, presenting more than 40 national – religious processions and concerts annually.
Orchestra's abundant repertoire is constantly enriched mainly with pieces originally written for wind ensemble, yet with symphonic music transcriptions and compositions of Jazz, Pop – Rock and Ethnic music.
Ensemble's most notable appearances were its three performances in:
Thessaloniki's Concert Hall,
two in Thessaloniki's Film Festival,
a documentary for the Hellenic Broadcast 3,
the 21 participations in International Youth Wind Band Festival of Sindos,
13 participations in Arachova's Wind Orchestra Fest.,
10 in Ampelokipi Festival and
its concert trips abroad in U.S.A., Canada, Germany, Sweden, Slovakia, Romania, Bulgaria and its concerts dedicated to Greek composers: Mikis Theodorakis, Stavros Kougioumtzis, Dionysis Savvopoulos, Nikos Kypourgos and Zoe Tiganouria.
Kalamaria Wind Orchestra accomplished fertile collaborations with many wind orchestras, choirs, dance groups and soloists, like the Hellenic Navy Band, "Kapodistrias" wind orchestra from Corfu, from Lefkas, Konitsa, Itea, Arachova, Karpenisi, Karditsa, Ptolemais, Katerini, Makrygialos, Pella, Edessa, Doxato, Sindos, Kassandreia, Ampelokipi, Lixouri, Solna (Sweden), Liptovski Mikulas (Slovakia), Lubecke and Hovhrein (Germany) and Velingrad (Bulgaria). The ensemble organizes annually Wind Orchestras meeting and seminar.
Director of the Orchestra is Ioannis Koukas. Concertmeister is Anastasios Danailidis.