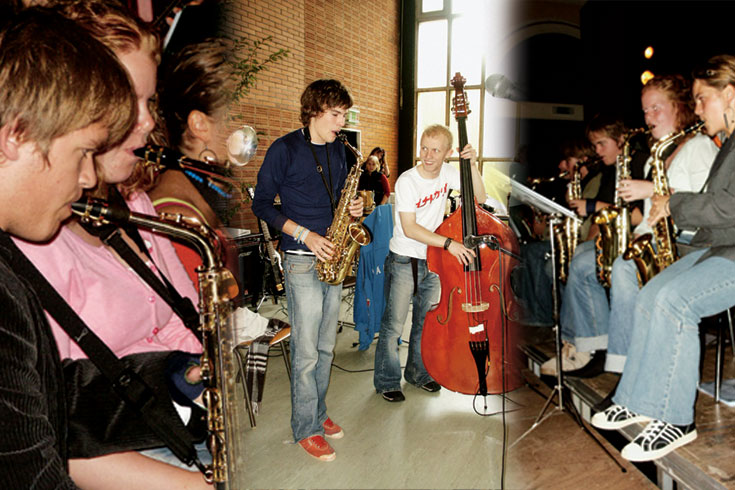 The Big Band of the Music School of Nykobing Falster has existed for 20 years. The music school was not very old when the idea of creating a Big Banc was breeded. The town needed a band at an advanced level, so that one could inspire and draw interested young people to the new established music school.
In the beginning the band was in a combo – or "almost" – format with six or seven horns and a rhythm section. The aim of course was to form a big orchestra, a full up Big Band. After some years we have succeeded, especially because of:
an early established structure with music workshops for the youngest pupils and
with different bands at elementary as well as intermediate levels.
Through the years the Big Band has had and still has a great advertising value for our music school. The yearly New Year – concerts in the town of Nykobing, by various workshops and Big Band – meetings (sometimes with established soloists from the Danish jazz scene). Club – jobs and society – arrangements, by school – concerts and gymnasium – balls, by concerts in Tivoli Garden in Copenhagen, by foreign concert – visits the Big Band has succeeded in promoting the Music School of Nykobing Falster.
The course has been kept and the orchestra has for many years been a melting pot for young talents. Many of these talents today support themselves as musicians and music – teachers.
Conductor of the Big Band of the Music School Nykobing Falster orchestra is Henning Soderberg.