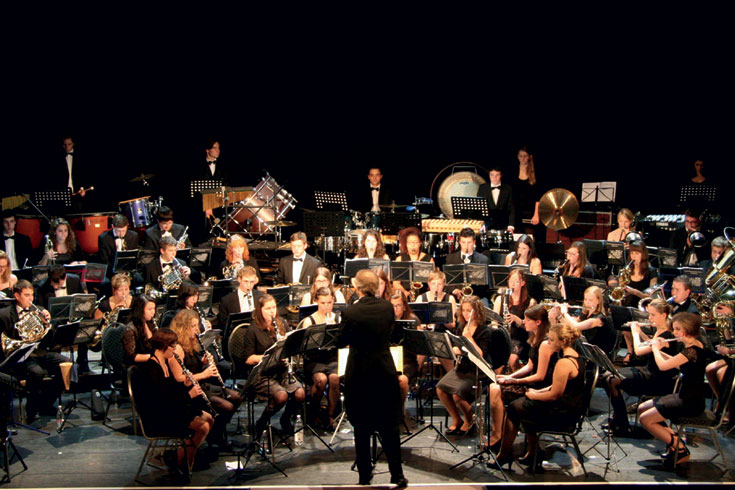 Youth Wind Band Upper Rhine, Germany
The Upper Rhine Youth Wind Band (Verbandsjugendorchester Hochrhein) was founded in 1986 and consists of 60 musicians aged 14-25 years (average 18).
It draws its members from the 120 Community Bands of the Upper Rhine Wind Band Association which covers the Waldshut - Tiengen district in Southern Germany.
The musical director Julian Gibbons is leading the wind band since 1996.
The symphonic wind band offers young musicians of the region the opportunity to make music to a very high standard.
The repertoire ranges from demanding symphonic literature to contemporary music, movie soundtracks, lighter music and jazz
arrangements.
The symphonic wind band prepares its concerts and concert tours with full and sectional rehearsals once or twice a month
and additionally meets for several weekend or week rehearsal phases.
The Upper Rhine Youth Wind Band is regularly participating and winning in wind band competitions both on a regional and on a
broader level.
The highlights in the program are the yearly concerts in autumn and the numerous concert tours the band has already undertaken.
The Band has performed concerts and festivals in England (1997), Sweden (1999), Portugal (2001), Belarus (2003), Wales/
England (2005), Canada/USA (2007), Norway (2009), Ireland/England (2012), Malta (2014) and Iceland (2016).
Conductor of the orchestra is Julian Gibbons.