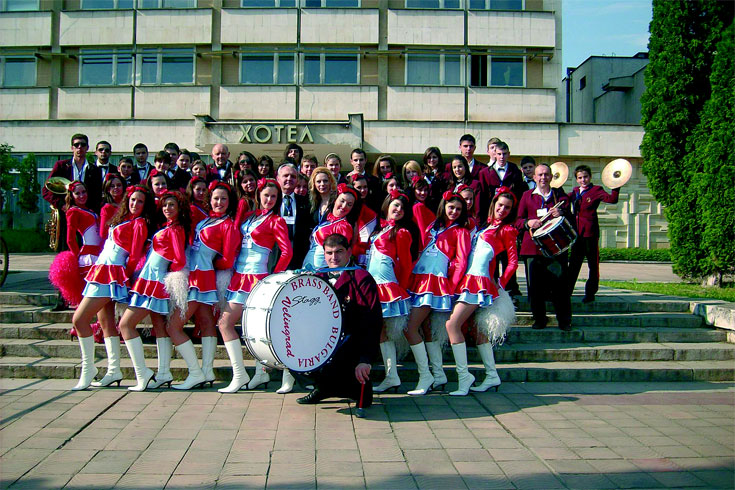 The Representative Youth Brass Orchestra "Dimitar Mechev" – town of Velingrad, Bulgaria was founded in 1965. His founder and bandmaster until 2006 was Mr. Dimitar Mechev.
Including full range of wood and brass wind instruments has a performing staff of 35 to 40 teen boys and girls at the age of 12 to 18. When needed, the Orchestra draws in older Orchestra ex-members.
The associate Cheerleader Squad gives the Orchestra completeness and perfection, full of elegance, refinement and beauty. The total number of both the Orchestra and the Cheerleader Squad consist of 50 performers.
The program of our shows contains numerous art and music compositions of Bulgarian and foreign composers. The performances are known by their genre variety – marches, folklore music and dance, classical, popular and dance music.
During the past years our οrchestra becomes and approves itself as "leading" one, not only in Bulgaria but also in the rest Europe, participating in more than 55  international festivals and contests, acquiring tenths of rewards and prizes such as:
Laureate and prize-winner of the III, IV, V, VI and VII National Festival of Amateur Art Activities
Honored Participant at "Contemporary Bulgarian Music" Review
First brass orchestra named "Leading" at the European Brass Orchestra Contest in Karlsruhe, Germany
Laureate at the International Contest in Bamberg (1992), in Trier (1993), in Fussen (1995).
Honored participant at the bicentennial of the Great French Revolution in Bonneuil in Paris.
For his leading role in the Orchestra, Dimitar Mechev was awarded with the "Golden Hercules" statuette – awarded from the International Art Academy – Rome, Italy.