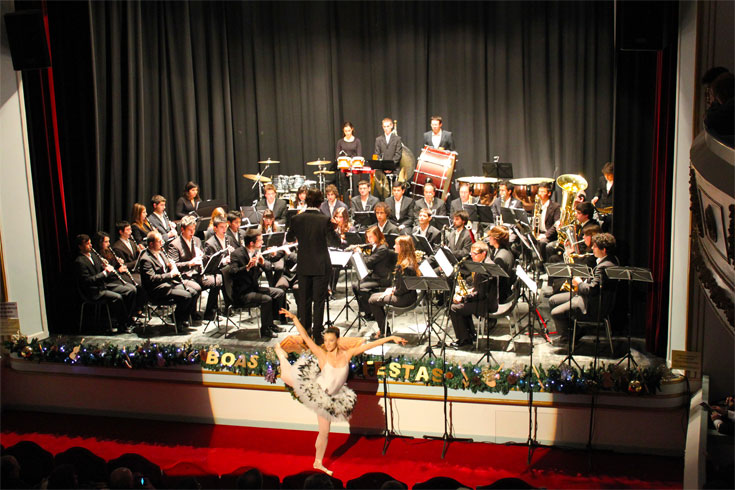 Established in 2005, the West Europe Orchestra (WEO) is a wind orchestra composed of 45 young amateur musicians, all of which are from Portugal's West Region.
In addition, Portugal is located in the far west of Europe. Thereby explaining the name of this wind orchestra. Its mission is to perform innovative and outstanding concerts throughout Portugal and Europe. The WEO strives for concerts with singers, photography and video. The WEO has a vary diverse repertoire, ranging from music for films and pop music to classical music and world music.
Opera and music especially composed for wind instuments are also part of the repertoire. In 2007 and 2008, the WEO and three opera singers performed several tribute concerts to the deceased tenor Luciano Pavarotti.
In March 2008, the WEO was the Portuguese winner of the first edition of the European Charlemagne Youth Prize competition. This competition was organised by the European Parliament and the Foundation of the International Charlemagne Prize of Aachen. The WEO represented Portugal in the award ceremony in Aachen, Germany.
In May 2010, the WEO was invited to perform for the President of the Portuguese Republic, Professor Anibal Cavaco Silva, during the official visit to the Innovative Local Communities of Portugal's West Region. Portugal's minister of culture, Gabirela Canavilhas, also attended the concert.