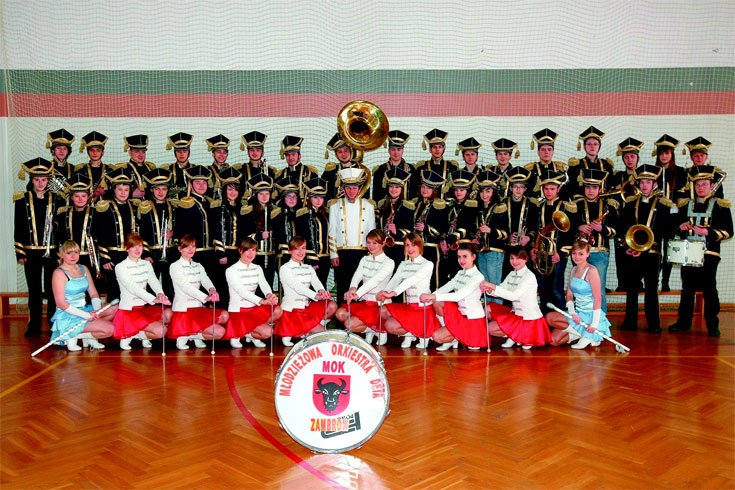 Youth Marching Band of Zambröw was created in 1997 from the initiative of the current conductor Krzysztof Witkowski in a cooperation with the local authorities. The Orchestra's members are students of Zambröw primary and secondary schools. The Band is organized by the Municipal Cultural Centre in Zambréw which finances the activities of it. In 2002 as a subgroup of the Orchestra was founded the majorettes group. The band very often performances and takes participation in most important events in Zambröw and also attends competitions and festivals locally and abroad.
Zambrowian musicians performed in Italy in 2005, a sever times in Germany in Restede — 2007, in Malente — 2009r, in Hattstedt — 2011r, in Belarus in Brastawiu in 2010r, in Lithuania in Kiejdany and Vilinus in 2006, in Latvia in Gaugavpils in 2007 and 2010r.
The Orchestra received a number of awards and prizes and the biggest successes are silver and brown medals in International Marching Band Competition in Restade in 2007. First prize in ceremonial drill. Third prize in promenade concert in International Marching Band Competition in Hattstedt in Germany. Youth Marching Band of Zambröw is still upgrading their performing quality. The students are practicing under the supervision of professional instructions in few sections working in the structure of the orchestra:
Clarinet section
Trumpet section
Saxhorn section
Trombone section
Tuba section
Drums section
Girls' dancing section.
In the orchestra there are also playing students of National Music School of the first degree. In the repertoire of the band there are pieces of entertainment and pop music, film music and also classical music.
The Orchestra's potential may be presented in the form of stage concert where the dancing group is dignifying the player's performance. Equally spectacular may also be found the marching parade which the band is presenting together with majorette group. For every artistic season the orchestra together with majorette section is compiling a drill routine which is one of the most interesting form of the Orchestra. Currently there are 40 members of Youth Marching Band of Zambréw. The conductor is Mr. Krzysztof Witkowski. The youngest member of the Orchestra is 13 years old and the oldest is 26 years old. The majorettes group includes 36 people in 3 age group, the manager and choreographer in Mrs Maria Gerasimiuk.